Goede morgen
Het is donderdag en dat betekend ....yep een nieuwe challenge bij
Cute Card Thursday
en het thema is "stitching"
Nou das voor mij niet zo moeilijk want dat doe ik dus echt op iedere kaart lol.
We worden deze week gesponserd door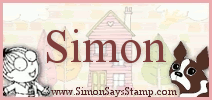 Dus ga gauw op het blog kijken naar de creaties van mijn teamgenootjes en natuurlijk is het nog leuker als jullie gezellig meedoen!
Zo na al die best wel drukke kaartjes voor mijn doen heb ik nu weer een rustig kaartje gemaakt hihi De digi heet "Odette"en is natuurlijk van
Mo's digital pencil
,alleen Mo kan zo'n schatje tekenen. Papier is nogmaals van Glitz "Pretty in Pink"
Lint
Hartjes uitgesneden met de Cricut
Knoopje
Glitter
Plakparels
Vlinder met een pons van Kars
Naaimachine...duh!!
Copics
Verder doet hij mee met de volgende challenges:
Creative Inspiration
.....bingo.....pink,pearls,glitter
My Mums Craftshop
.....all the three's.....hearts
Simon says stamp
.....anything goes
Sweet stamping
.....out of the frame
Verder is ze natuurlijk op het het blog van
Mo's Dream Team
terug tevinden.
Ik wens jullie een fijne dag,de mijne begint niet zo lekker,moet om 8:00 bij de tandarts zijn,mag happen voor een kroon,vindt ik opzich niet zo erg,maar als het droog is en hij dat bitje eruit moet halen ben ik bang dat de rest ook mee komt,ik heb zo'n slecht gebit,en wat dat geintje weer gaat kosten....kan je hoop copics van kopen lol.
XXX Heidy